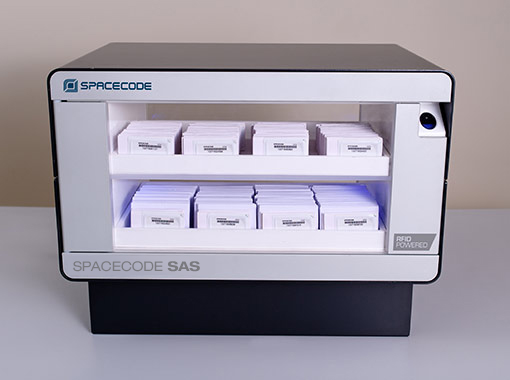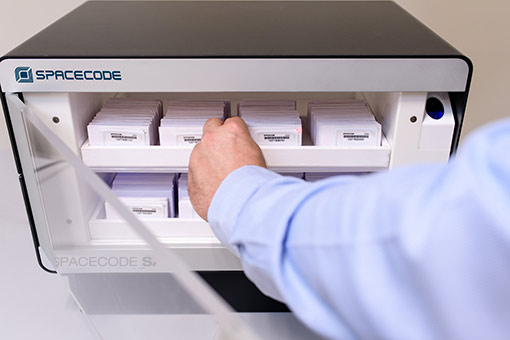 Spacecode 
The Spacecode SAS is an award-winning, dual-access RFID cabinet system used for track-and-trace in diamond facilities worldwide where the transfer of stones between divisions must be controlled and recorded.
The cabinet can be mounted inside a physical partition or wall and fitted with two doors – back and front – it allows items to be moved between physically separated users or areas and monitors their movement accordingly. The loose diamonds are placed in from one side by a biometrically authorized user and the system automatically alerts staff that they are ready for collection. They are then removed from the other side, again by a biometrically authorized user, and the system records the transfer.
This "digital handshake" is monitored by Spacecode's tag technology which provides total inventory visibility, tracking exactly who accessed the Spacecode SAS, when it was accessed, what was transferred, and where the transaction occurred.
What does the Spacecode SAS do for companies?
Rapid monitoring
Automated administration of transactions and movement of goods
Simple but secure transfer of loose diamonds and especially high-value goods
Who uses the Spacecode SAS?
The Spacecode SAS was designed for the diamond business workflow where authorized staff in factories, sales offices and sorting offices hand over diamonds between processes or from one division to another.
Features and Benefits at a Glance
Compact, user-friendly unit
100% reading accuracy not affected by metal, liquids or juxtaposition
Shock-resistant
Biometric fingerprint access
USB connection
LED interior illumination
Double iron-layered adjustable bracket for attaching to wall or glass partition
Customized alarms configured according to requirements
Diamond Facilities using the Spacecode SAS:
Polishing factories
Diamond sales offices
Diamond sorting offices
Auction houses
Types of items being processed using the Spacecode SAS today: